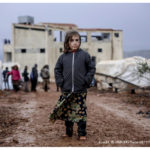 Syria: 'The tragedy is deepening' – nearly 5 million children have known nothing but war.
Despite a decade of attempts to end the brutal civil war, Mr. Pedersen (UN) said that "unprecedented levels of diplomatic cooperation and fortitude" are still needed and the parties "must meaningfully engage in negotiations".
He called on the international community to "demonstrate a renewed sense of urgency in supporting the Syrians in finding a UN-facilitated political solution."
In conclusion, Mr. Pedersen said the suffering of Syrians was simply catastrophic and must end: "The unity of all in the international community must coalesce toward the fulfillment of all Syrians' legitimate aspirations. We must choose peace."
Almost 5 million childen born into war: UNICEF
Around 4.8 million children have been born in Syria since the conflict began nine years ago, with an additional million born as refugees in neighbouring countries, said the UN Children's Fund, UNICEF, in a statement released to mark the anniversary.
"The war in Syria marks yet another shameful milestone today," said UNICEF Executive Director Henrietta Fore who was in Syria just last week. "As the conflict enters its 10th year, millions of children are entering their second decade of life surrounded by war, violence, death and displacement. The need for peace has never been more pressing."